Bei der Marien-Bergkirche


Am Geburtstag des Freundes




O
liebste Kirche sondergleichen,
Auf deinem Berge ganz allein,
Im Wald, wo Linden zwischen Eichen
Ums Chor den Maienschatten streun!

Aus deinem gruenen Rasen steigen
Die alten Pfeiler praechtig auf,
An Drachen, Greifen, Laubgezweigen
Reich bis zum letzten Blumenknauf.

Und Nachtigall und Kuckuck freuen
Sich dein- und ihrer Einsamkeit,
Sie kommen jaehrlich und erneuen
Dir deine erste Fruehlingszeit.

Der Wohllaut deiner Orgeltoene
Schlaeft, ach, manch lieben langen Tag,
Bis einmal sich dein Tal der Schoene
Deines Gelaeutes freuen mag.

Dort, wo aus gelbem Stein gewunden
Die Treppe haengt,
ein
Blumenkranz,
Vertieft sich heut in Abendstunden
Mein Sinn in ihre Zierde ganz.

Sieh! ihre leicht geschlungnen Glieder
Verklaeren sich in rotes Gold!
Und horch, die Spindel auf und nieder
Gehn Melodieen wunderhold!

Musik der hundertfachen Floete,
Die mit dem letzten Strahl verschwebt,
Und schweigt,— bis sie die Morgenroete
Des gleichen Tages neu belebt.




Eduard Moerike 1845

At the Marian Chapel on the Hill


On the birthday of a friend




O
loveliest church with no equal,
Alone you stand on your hill,
In woods where lindens among oaks
Spread shadows on your apse in May!

Up from your green lawn
Stately old pillars rise,
With dragons, falcons and foliage
Up to their flowery capitals.

Nightingales and cuckoos delight
In their solitude and yours,
Year for year they come to remind you
Of that first spring you stood here.

The harmonies of your organ
Are silent, alas, for days on end,
Until your valley is again enlivened
By the welcome tolling of your bells.

There, where wrought of yellow stone
A staircase ascends, like a wreath of flowers,
My senses dwell this evening hour
On its beauty so singularly displayed.

Behold! Its lightly entwined elements
Transformed to reddish gold!
And hark, up and down its spindle
Wondrous music can be heard!

Music of hundred
s of
flutes
That with the last ray of sun dies away,
And falls silent,— until revived again
In the flaming dawn of the new day.




Translation: Charles L. Cingolani Copyright © 2012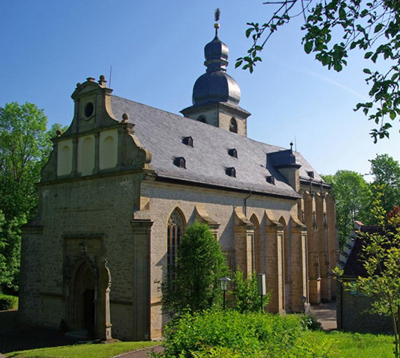 Photo: Paul Goetz